Looking for something fun, cheap and collaborative to add to your summer activities, all while supporting the ongoing efforts to monitor intertidal areas of Oregon's Marine Reserves? Then join one of the three upcoming Marine Reserve Bioblitzes! In case you're thinking "uh, Bio-what", a bioblitz is an intensive effort where volunteers and scientists come together to survey as many plants and animals as possible within a designated area. This is typically done with many people in a small amount of time ("blitz") and gives us a nice snapshot of what's living in any given area. And if you can't tear your kiddo or family away from their "smarty-pants" phones, you're in luck as utilizing the iNaturalist app at the event is the easiest way to participate! Learn more below and scroll to the bottom of this post for event listings!
Organized as collaboration between various community groups, NGOs, Oregon Parks and Recreation, the Oregon Coast Aquarium and local scientists from Hatfield Marine Science Center, these Marine Reserve bioblitz efforts are designed with the goal of cataloguing species diversity through presence/absence observations in the intertidal areas. While the Oregon Department of Fish and Wildlife (ODFW) utilizes a variety of more intense survey tools and methods for monitoring intertidal areas of marine reserves, bioblitzes are a cheap, fun and collaborative way to educate the public and directly engage them in learning and observations of marine reserves.
"We work with PISCO and marine scientists from OSU and UC Santa Cruz to conduct rocky intertidal monitoring and research in several of Oregon's marine reserves and elsewhere along the west coast of North America," says Cristen Don, ODFW's Marine Reserve Program Leader. "While these programs have long-term datasets that in some cases span more than 20 years, engaging the public in events like bioblitzes are great ways to expand observations and public understanding of changes in the nearshore."
So how does this all work and what does a bioblitz event look like? Basically, you'll attend one of these events, receive some instructions on what to look for and then start documenting! This entails combing through the tidepools and snapping photos of different plants and animals you find. Scientists will be on hand to help with identifications or you can snap photos of plants and animals and submit them to the catalogue where they will later be identified by a professional. It's like tidepooling with professionals and once you've attended an event, it's pretty easy to do this all on your own! Before you go, download the iNaturalist app! This is a useful tool (for those with smartphones) which enables any observer of the natural world, of any skill level, to contribute information to a vast national database. This is the method by which participants will contribute to the Bioblitz. You can check out any of the Marine Reserve Bioblitz pages below to get an idea of what types of observations citizens have been making up till now since events have been happening for some time at some of the sites. Questions about any of the events below or bioblitzes in general, contact ian.throckmorton@aquarium.org.
Upcoming Bioblitz Events this July
Where: Otter Rock Marine Reserve (Devil's Punchbowl Park, north parking lot)
When: Saturday July 14th, 8am-noon
Website: https://www.inaturalist.org/projects/the-otter-rock-species-inventory
Facebook: Go here to RSVP
Where: Cascade Head Marine Reserve (North end of Roads End Beach)
When: Sunday July 15th, 9am-1pm
Website: https://www.inaturalist.org/projects/the-cascade-head-species-inventory
Facebook: Go here to RSVP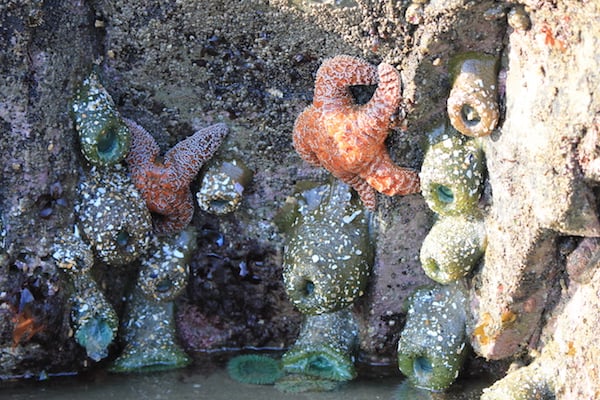 Where: Cape Perpetua Marine Reserve (Meet at Visitor's Center)
When: Tuesday July 17, 10am-1pm
Website: https://www.inaturalist.org/projects/the-cape-perpetua-bioblitz-series
Facebook: Go here to RSVP