On August 15, the Cannon Beach City Council met for a continuation of the hearing for a proposed development which aimed to privatize a public right-of-way and build a "super driveway" in the oceanfront setback zone.
This years-long battle finally came to a close, with the City Council voting unanimously to deny the application and uphold the City code in the face of well-funded private interests. Councilors have cited many issues with the application, including incomplete development plans, unaddressed traffic safety concerns, and the inclusion of structures within the oceanfront setback zone, which is prohibited. This in particular conflicts with Surfrider's beach preservation policy, as the placement of retaining walls and other structures in this area would lead to erosion of the public beach in front of the iconic Haystack Rock. As climate change worsens, this area will be subjected to more extreme weather events, putting stress on what is already an active landslide zone. You can view the final order and findings from the City here.
This piece of land sits just south of the historic Oswald West cabin, which was rebuilt as a museum after an arson attack in 1991, and contains the largest stand of oceanfront forest in Cannon Beach. It is also adjacent to Inspiration Point, the place where Governor West first conceived of the idea that Oregon beaches should belong to the people, forever.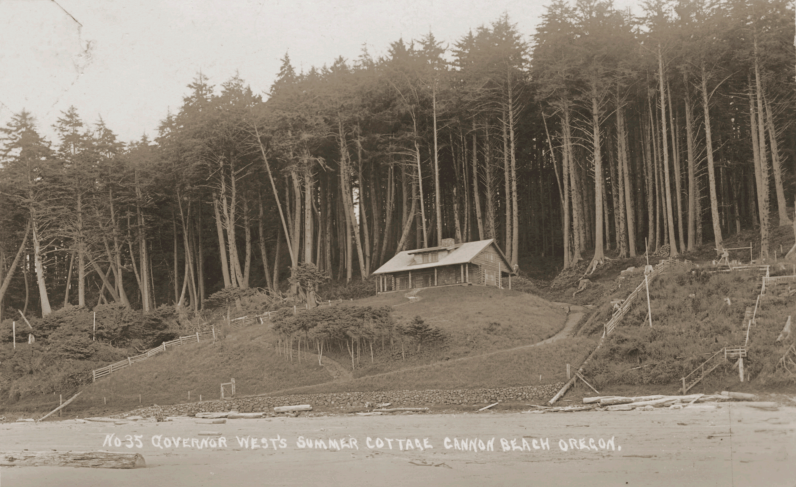 Governor Oswald West's historic cabin. It sat just north of the proposed development.
We have so much gratitude for our North Coast Chapter and our partners who have worked tirelessly to mobilize and inform the community around this harmful development, submit comments, and support in land use appeals. Thanks to the work of key advocates from the historical center, Haystack Rock LLC, Friends of the Dunes at Cannon Beach, and Oregon Coast Alliance, this special piece of coastline will continue to inspire future generations of Oregonians.
After the vote, Mayor Barb Knop commended City staff and the City attorney for their work on this project. Likewise, I would like to commend Mayor Knop and the rest of the City Council for upholding the City code and not allowing this harmful development to erode our precious public beach and put our neighbors at risk. I admire the Councilors' acknowledgement of the weaknesses within the City code, and we look forward to working with them in the future to strengthen the code and further protect Cannon Beach's shoreline. For more on that work, visit our campaign page.
For more background on this subject, read our last blog and visit the campaign page.
UPDATE - On August 29, 2023, the applicant filed a Notice of Intent to Appeal with the Land Use Board of Appeals. At this time, Surfrider will be monitoring the situation but will not be intervening in the LUBA process.