The Blue Water Task Force (BWTF) program in Depoe Bay, Oregon is been making science fun and accessible for Lincoln County youth. Since the program's inception in 2010, more than 75 children have been trained in water quality testing methodology, and 375 water tests have been conducted to provide much needed year-round information on the safety of Oregon's beaches.
The Depoe Bay BWTF program is a unique partnership between the Newport Surfrider Chapter and Neighbors for Kids, a nonprofit that provides a safe place for students to come after school, where they are supervised by caring adults in a fun, learning environment. Surfrider volunteers collect water samples on a monthly basis from five beaches stretching from Road's End State Park in Lincoln City to Depoe Bay, where they are processed in the lab at Neighbors for Kids (NFK). With this sampling schedule, the Depoe Bay BWTF is generating the only water quality information available during the off-season at these beaches as the State's monitoring program is only seasonal – running from the end of May through October first.
Larry and Nanci Brammer, who helped launch the Depoe Bay BWTF, started their Surfrider journey back in 2009, a little further down the coast with the Florence BWTF program. Larry is well known within the Oregon BWTF scene as developing the "No-Brammer" sampling method that uses a fishing pole to collect samples on dangerous or hard to reach beaches. A decade later, the Brammers continue to volunteer their time to collect water samples and help train and inspire students participating in the water testing program.
Karen Driscoll, who helps run the lab at NFK, draws on her experience educating children to make science more accessible regardless of age. How do you teach the concept of dilution to a kindergartner? By mixing chocolate milk and white milk, of course! Karen presents these simple analogies to the children to explain scientific principles, and often they match her with their own inspired ideas. During an explanation of how to unwrap a pipette while still keeping it sterile, a lightbulb lit up for a five-year-old student who exclaimed, "Oh, you mean it's like [opening] string cheese?".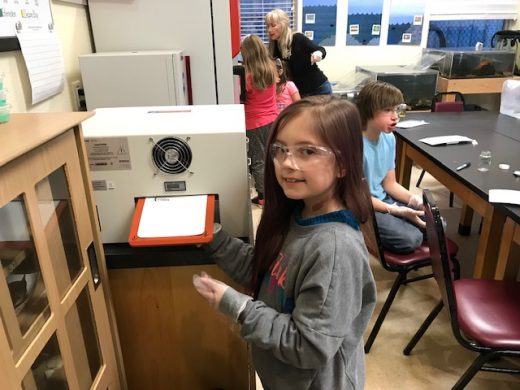 Not all of the scientists are so young. Most students are 8-11 years old, including many young girls who are very enthusiastic about the program. In fact, since 2015, 60% of the students participating in the water testing program have been girls – a shift from the earlier years when more boys were signing up.
Each BWTF processing session can handle six students – more when the older students are mentoring younger students – and they sometimes have a wait list. In its eight-year tenure, the student return rate to the program has been 100%, with students only leaving when they leave the NFK program. One student, Markos, even chose to participate in the BWTF program over football practice!
In order to make their programming accessible to the full community, Neighbors for Kids offers scholarships to families who need the assistance. Many of the participating students have faced many challenges in their young lives, some are in foster homes, and some have behavioral issues at school. "They are all survivors," said Heidi Lambert, Director of Operations for NFK, "This program gives them such a sense of self confidence. Once they get just a little sense of confidence in one area, it spills over."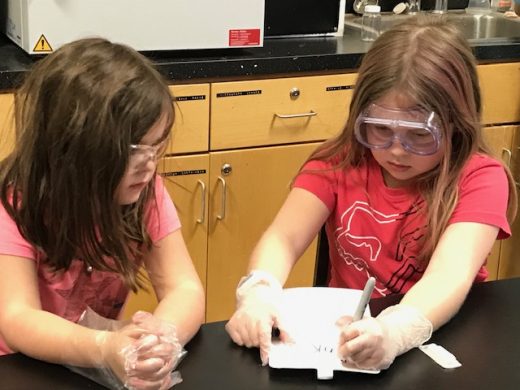 The water samples the students process typically test clean with low bacteria levels, which surprisingly can disappoint the kids. Each month, Larry, Nanci, and Karen have to explain that low readings are desirable because it shows that the beaches they monitor are safe for swimming. An atypical high reading, however, can cause all sorts of excitement in the lab, and a lively discussion on the potential sources of the bacteria in the water ensues. And the inspiration and learning goes both ways. The adults bring experience and wisdom to share and the kids in return continue to surprise their leaders with fresh insight and perspectives, making for a rewarding experience for everyone.
Since 2016, Neighbors for Kids has also partnered with Surfrider Foundation and Warm Current to add a surf experience option to their summer camp. The surf camps have quickly grown from 30 kids per summer to training upwards of 100 kids in its third year. Some of the participating youth are now becoming instructors themselves, and NFK is even providing lifeguard training for these kids. Campers also learn how to be good stewards of the environment by participating in beach cleanups and bioblitzes (events to collect observations of marine organisms using a mobile app). This experience is further fostering a love for the beach and developing future stewards for Oregon's beautiful coastline.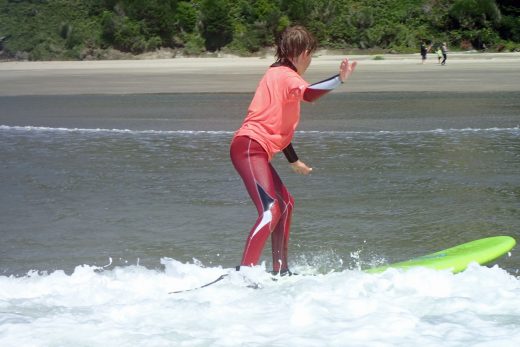 To see where the Blue Water Task Force is testing in Oregon, visit Surfrider.org, or go to the Oregon Health Authority's website for information on the State's seasonal beach monitoring program.