Join Surfrider Foundation and Hatfield Marine Science Center on March 21st, 6:00pm at the HMSC Auditorium to welcome Dr. Atsuhiko Isobe, lead researcher from Japan, for a special presentation: Remotely Monitoring Marine Debris with Web-Cam Technology. Last year, Surfrider Foundation worked with researchers from Japan and NOAA's Marine Debris Program to install a remote marine debris monitoring camera in Lincoln County as part of a larger international marine debris monitoring project around the Pacific. Dr. Isobe will present findings from the first year of monitoring.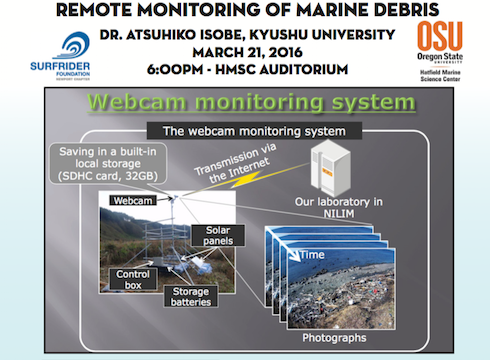 While beach cleanup data can give some insights and understanding of marine debris abundance and accumulation, the data is often fragmented, representing only a snapshot in time. On the other hand, remote monitoring cameras can provide ongoing "snapshots" in real time, representing long-term surveillance of marine debris to support stronger data on debris accumulation, abundance and seasonality. On March 21st, Dr. Atsuhiko Isobe will be presenting data from the first year of monitoring at the site here in Lincoln County (near Moolack Beach).
Dr. Atsuhiko Isobe has now installed 10 different remote web-cam monitoring systems around the Pacific, primarily focusing on islands around Japan and the south Pacific. The effort is part of a greater international research project, supported by PICES and the Japanese Ministry of the Environment to better understand marine debris, particular that originating from The Great Tohoku Earthquake of 2011. Dr. Isobe and his team analyze photographs from the cameras using unique photo recognition software that allows them to distinguish different types of debris over long periods of time at a particular site. Surfrider was selected to partner on this project for the US and Oregon was selected as the best candidate for establishing a monitoring site. After working with the researchers in Japan and NOAA from December 2014 - March 2015 to select a site, coordinate research visits and install the camera, we're excited to now see the results from the first year of monitoring! More background here.