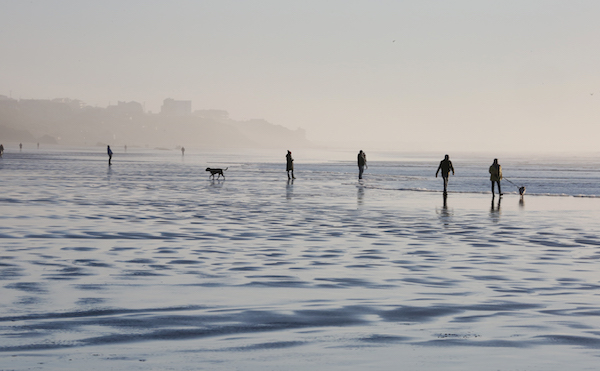 04.20.22
Shrinking Beaches? New Survey to Inform Access and Management along Oregon's Coast
By Charlie Plybon
You are invited to participate! Oregon State University is conducting an important research study and public survey about Oregonians' beach recreation and potential management actions for the impacts of a narrowing shoreline. Climate change impacts like rising seas and acute hazards like tsunamis and winter storm events are squeezing the narrow margin of Oregon's public beaches between our ocean and the developed areas of the shoreline. This narrowing of some of Oregon's beaches is reducing the number of hours per day the beaches can be enjoyed for recreation safely and government agencies may consider management actions to maintain access and safety of Oregon's developed beaches. Oregonians are invited to participate in this study and survey to gather public opinions about Oregon's beaches, access, safety and recreation, information essential in guiding future beach management decisions that may impact Oregonians for generations to come.
To complete the survey, please follow this link https://oregonstate.qualtrics.com/jfe/form/SV_0P1dTiS6J5gGmLs
The survey is called "The Oregon Coast: A Survey about Coastal Recreation and Management Plans" and will ask individuals to describe recreational trips to the Oregon Coast over the last 12 months, consider a possible coastal management program for the state's developed beaches and indicate whether one would vote for it or against it. Participants will be asked questions about what is important when deciding whether and how to protect access and improve safety at Oregon beaches, including the cost of such programs.
A summary report and anonymous dataset from this project will be shared with government agencies to help them understand the type of programs that Oregonians support to maintain our public beaches. Participation is voluntary and individuals may always answer "Not sure" or "Prefer not to say" to any question asked. No identifiable information such as name or mailing address will be collected from participants. Responses to this survey will be kept no more than four years for the purpose of producing research papers, after which all data will be destroyed.
This survey is offered online. To complete the survey, please follow this link https://oregonstate.qualtrics.com/jfe/form/SV_0P1dTiS6J5gGmLs. The survey should take about 20 minutes to complete.
For any questions, please contact the project leader, Steven Dundas at dundas_survey@oregonstate.edu or individuals can call 541-737-1402 if they do not have email access. Please note that the survey can only be taken online (no paper copy is available).
This research is designed and conducted by investigators at Oregon State University's Department of Applied Economics and is supported by the National Oceanic and Atmospheric Administration (NOAA).