Oregon's Marine Reserves are some of the most remarkable coastal gems on our coastline and this spring and summer, there's lots of great ways you can explore these treasured special places. Connecting with Oregon's underwater world can be a challenge for those without an intrepid spirit for getting wet in our cold coastal environment, but fortunately for visitors to the coast there are lots of great ways you can discover, explore and connect with these special places without getting too wet. In this piece we quickly explore some of the top resources and activities to participate in at each of Oregon's Marine Reserves. Scroll down to see our top picks and resources for exploring each!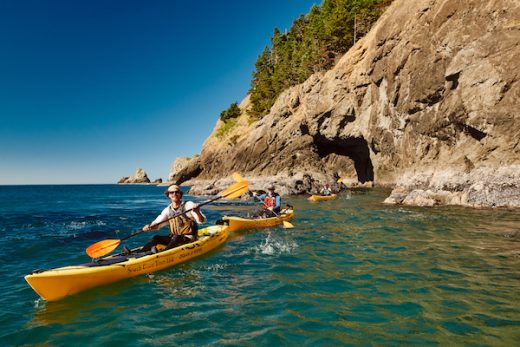 Before You Visit
Before heading out to the coast, a primer on Oregon's Marine Reserves is in order so you know what to expect at each site as well as the general rules and regulations. The Oregon Department of Fish and Wildlife's Marine Reserve Program has a fantastic website, built to both entertain and educate so check it out before you head out! The website has a myriad of resources from awesome underwater photos and videos to habitat and geographical characterizations of each site, both below the surface and shoreside. Learn more!
Our journey begins on the north coast:
Cape Falcon Marine Reserve
We've written many times about this site - it's a treasured surf and recreational destination adjacent to the all too well known site of Oswald West State Park, a.k.a "Short Sands". The last of Oregon's Marine Reserves to be designated in 2016, this is probably a site you might best avoid in the summer and visit in the winter. Why? Because everybody and their dog (literally) go here in the summer, creating safety and increasing management concerns.
No doubt Cape Falcon is an awesome place to visit, but we tend to think it's a lot cooler when you don't have to share it with a thousand other people - or given it's high use, you pitch in by actively engaging in organized stewardship activities. Learn more about local efforts like these through the Friends of Cape Falcon and check out a few great activities below for this summer season!
World Ocean Day Hike to the Summit of NeahKahnie
June 8, (Time TBD, see website for more details)
Lower Nehalem Watershed Council and the Friends of Cape Falcon team up on a stunning hike to the summit of NeahKahnie Mountain during this Explore Nature Tillamook Coast event. Get an overview of the watershed feeding into the ocean along the Cape Falcon Marine Reserve and toast healthy waters at the mountains summit. More info.
Conserving our Land, Beach, and Sea Walk and BioBlitz
July 26, 9-11am
Conservation corridors are being established stretching from mountain peaks to state coast waters. Learn about the value of interconnection then assist us in cataloging the ocean life living at this intersection. The Explore Nature Tillamook Coast event is co-hosted by the Friends of Cape Falcon Marine Reserve, Lower Nehalem Community Trust, and Lower Nehalem Watershed Council. More info.
On the Land Hike: Cape Falcon
August 29, 10am -1:30 pm
Explore the coastal edge with a hike along the cape falcon trail head. Friends of Cape Falcon Marine Reserve and North Coast Land Conservancy will discuss this unique ecosystem and the role of the Rainforest Reserve and Marine Reserve in preserving it. More info.
Cascade Head Marine Reserve
Just north of Lincoln City, Cascade Head Marine Reserve is another stunning treasure of the Oregon coast, and thanks to some great protections on land, you can hike around the adjacent headland without some of the same crowding and management issues in the summer that we see shoreside of Cape Falcon. Additionally, Cascade Head boasts the adjacent Salmon River estuary, and is the only marine reserve in Oregon with wetland and estuarine habitat adjoining.
Here's just a few of our favorite things to do and explore in and around Cascade Head Marine Reserve.
Take a hike on and around Cascade Head
The view from atop Cascade Head is really like none other. About 6.8 miles roundtrip, you'll traverse some beautiful forests, grassy headlands and catch views of the Salmon River estuary and offshore islands from above. Much of this area is highly sensitive habitat and protected through the Nature Conservancy's Cascade Head Preserve, so read up on the rules ahead of time to help us ensure this place remains ecologically significant and accessible. Diverging to the north, trails enter adjacent Forest Service property and give stunning views of Hart's Cove and Chitwood Creek Waterfall - More info.
Launch a kayak or SUP at Knight Park
Just 3 miles north of Lincoln City, you'll follow Three Rocks Road to Knight Park where you can launch your kayak or SUP on the protected flat waters of the Salmon River estuary. Head downstream and find a sweet little beach accessible only by water. On a good ocean day, you can slip out the mouth and find other secluded beaches, sea caves and amazing offshore islands. An amazing experience by water, be sure and check tides or go with an experienced outfitter if you're not a pro with the paddle - guides, gear and more info here!
Tidepooling at Roads End
Roads end is a beloved destination vacation beach at the southern most end of the Cascade Head Marine Reserve. And while the beach is loved and used by many vacationers, the far north end, which abuts a rocky intertidal area and slight headland, is generally less explored and often teeming with marine life. This is an excellent place to learn about tidepools and marine life that calls this special place home. More info!
Otter Rock Marine Reserve
Many kids and adults alike have fond associations with learning to surf or going tidepooling for the first time at this amazing site that might be the smallest of Oregon's Marine Reserves, but boasts a plethora of activities for the whole family. Housed just north of Newport on the central Oregon coast, Otter Rock Marine Reserve is adjacent Devil's Punchbowl State Park.
Guided Tidepool Adventures!
May through September (dates/details here)
On the north side of Devil's Punchbowl State Park, Otter Rock Marine Reserve's vast rocky intertidal area offers a perfect spot for individuals to go tidepooling! A mecca for intertidal education and research, individuals can spot a range of animals from birds and invertebrates to marine mammals like harbor seals that haul out on the north side. More info.
Otter Rock and Roll!
June 23, 8am-4pm
The only "kids only" surf and stewardship contest in Oregon! Whether your kid is a seasoned surfer or has never tried, there's something in this event for the whole family! From advanced divisions to "best beginner" (only open to kids that have never surfed before) your kids will have a blast learning and playing alongside of their peers in a fun and inclusive environment. Not into surfing? That's ok, cause beach games, complimentary pizza and the beach cleanup challenge will keep the family engaged all day! Registration is limited, visit otterrockandroll.com for details!
Monitor Black Oystercatcher Nests and Fledglings
Up and down the coast, Portland Audubon offers an awesome citizen science opportunity to monitor Black Oystercatchers - including right here at Otter Rock Marine Reserve. These charismatic shorebirds nest and forage in Oregon's rocky shoreline and Portland Audubon hosts trainings to help teach you everything you need to have fun and be an official citizen scientist. All summer long, trainings start in May and are not just restricted to Otter Rock Marine Reserve. More information.
Cape Perpetua Marine Reserve
Oregon's largest Marine Reserve, just south of Yachats and north of Florence, Cape Perpetua is a marvel from the temperate old growth rainforests shoreside to it's east to the extensive rocky intertidal along the shoreline. A favorite for a variety of variety of activities and individual interests due to the high focus of the US Forest Service in managing the adjacent forests as recreational areas. Home to the endangered Marbled Murrelet, Pacific Lamprey and a half dozen streams and rivers where Coho, Steelhead and Chinook Salmon reproduce, Cape Perpetua is a place to be awestruck by the power of land-sea connectivity. Start your journey at the Cape Perpetua Visitor Center, where awesome volunteers can help you decide how to best spend your day!
Watching Whales, Stellar Sea Lions and other Marine Mammals
It's hard to beat the vistas you'll find at Cape Perpetua and year round opportunities exist to watch some of the most charismatic megafauna in Oregon's ocean. Most waysides offer excellent migrating and resident gray whale viewing opportunities, with volunteers offering "Whale Watch Spoken Here" programs in the spring and fall and the Cetacean Society offering interpretation at these sites in the summer. Year round you can find (although more in winter) Stellar Sea lions at the Sea Lion Caves , the largest sea cave on the Pacific coast and home to these amazing animals. And lastly, Strawberry Hill at low tide almost always pleases for a rookery of harbor seals resting on the rocks!
Citizen Science for the Endangered Marbled Murrelet
July 19-20 & July 26-27
Join Portland Audubon's annual Marbled Murrelet survey training on the shores of the Cape Perpetua Marine Reserve and Protected area and in the nearby coastal forest. This annual survey is a unique opportunity to learn from murrelet experts to better understand the challenges faced by this mysterious bird of land and sea.
Surveys: Two overnight sessions in July | 6 sites all in the Yachats / Cape Perpetua area,No training requiredGo here to RSVP
Cape Perpetua Cleanups and Bioblitz
May 11 (Cleanup) & May 12 (Bioblitz)
Back to back days of citizen science, fun and stewardship! First up is the Mountain Rose Project with Surfrider Foundation and Portland Audubon hosting a cleanup focusing on micro-plastics and conducting a density survey on the beach. On May 12th, in honor of Migratory Bird Day, citizens will join together to help identify migratory birds and other species in a "Bioblitz" effort. Scientists and naturalists will be on hand to help both days in survey work and species identification!
More info.
Redfish Rocks Marine Reserve
The first to be nominated and designated as a marine reserve and one of the most splendid places on Earth, Redfish Rocks is a magical place to visit. Just south of Port Orford, you'll immediately recognize that your in another bioregion as you overlook this Marine Reserve from Battle Rock State Park to it's north. The water is often a different color than areas north of here, the shoreline is rugged, rocky and these features extend underwater creating splendid habitats for a rich diversity of species. Surfing, hiking, tidepooling, kayaking, whale watching...this place has it all and you can often have it all to yourself being a bit out of the way for major metro areas to spoil with crowds.
Here's some favorite activities for the area, but don't limit yourself to our favs, there's lots more here to discover:
Kayak, SUP, and Van Tours
Guided kayaking, van tours and surfing lessons next to Redfish Rocks in Port Orford. South Coast Tours was the first and best on the south coast to offer guided adventure opportunities. The kayaking here is some of the best on the coast when it comes to ease of ocean access (protected) and the wildlife you'll discover. More info. at South Coast tours online - http://www.southcoasttours.net
SCUBA Diving
The best nearshore environment to dive in Oregon, Redfish Rocks and the reefs of Port Orford will wet the appetite of any world traveled diver. Dive into one of Oregon's best shore dives off the Port Orford Dock into deep water rocky habitat. SCUBA tank fills available at the Port Orford Field Station with ID and certification card -
more info.
Occasional outings organized by Outcast Divers in North Bend, more info. on their
Facebook page
.
Pineapple Express Adventure Rides
Tour the ocean by bike, seriously? Yep, it's a thing and guided bicycle rides based in Port Orford for Fat Tire biking and mountain biking can be a really fun way to learn and view the sites around Redfish Rocks Marine Reserve. If biking is more your thing than the sometimes intimidating ocean environment, this can be a great way to experience the best of both worlds. More info online at:
http://pineappleexpress.bike/