The Surfrider Foundation's Newport Chapter hosted youth competitors from across the pacific northwest for the Otter Rock and Roll Youth Surf Contest and Beach Cleanup Challenge in celebration of International Surfing Day. Observed globally, International Surfing Day celebrates the sport of surfing and helps raise awareness about issues facing our ocean, waves, and beaches. Now in its 13th year in the Newport community, the Otter Rock and Roll remains Oregon's longest-running and only surf contest designed solely for kids, complete with a best beginner division to support young learners.
https://youtu.be/2IM12jVrA8A
Video shot by Michael Leimbach
On Saturday, hundreds within the surf community gathered at Devil's Punchbowl State Park for the event. "We had 67 young surfers competing this year in the surf and a couple hundred friends, family, and Surfrider volunteers for a day of friendly competition and just plain fun," said Mike Harrington, lead organizer of the event. "The Otter Rock and Roll Youth Surf Contest is a celebration of our love for the ocean and the stewardship and responsibility that comes with it. If the smiles on the kids' faces were any indication, it was a huge success."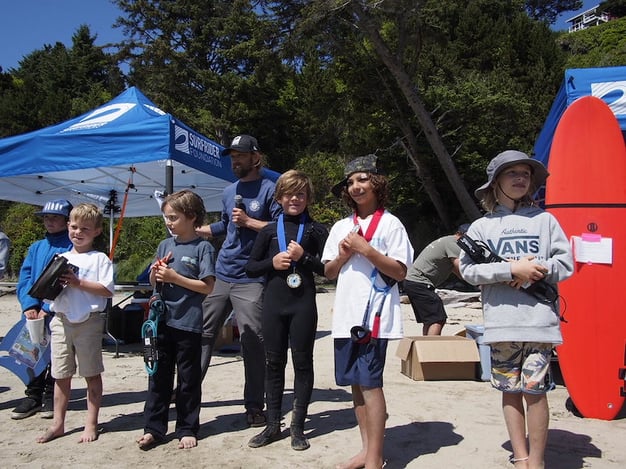 The 18 and under surf contest and beach cleanup challenge kicked off at 9am sharp and ran 20 fifteen-minute heats in divisions from "Best Beginner," which comes with surfing lessons and all the gear for surfing, to the 16-18 year-old division of more experienced surfers. This year, the youngest competitor was just 2 years old and competed with her father in the "Parent with Child" division.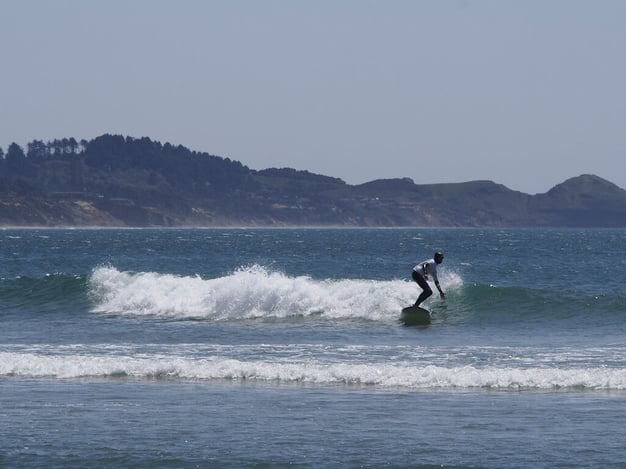 Gorgeous weather was on hand and while the swell was on the small size, it was perfect for the beginners and the experienced surfers made the most of the conditions. The beach cleanup challenge, a popular way for the non-surfer and surfers alike to participate, awarded prizes for most microplastic collected, most items collected, and heaviest bag of debris collected. The challenge teaches stewardship and awareness of marine debris while rewarding and reinforcing cleanup behaviors. The Friends of Otter Rock Marine Reserve joined to support the stewardship activities and help raise further awareness of this special place and its unique wildlife and habitat protections.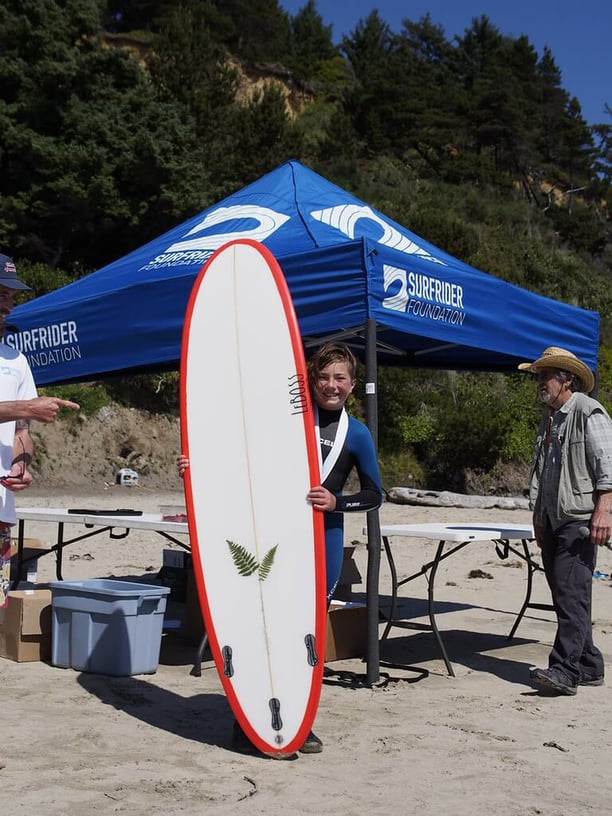 The Newport Chapter is extremely grateful to our sponsors who make this fun, family event so special for our community –
Beach Cleanup Sponsor: Pura, Vida Surf Shop
Kahuna Level Sponsors: LeBoss Surfboards, South Beach Surf Shop, Mo's Seafood and Chowder, Samaritan Health Services, O'Neill and Roxy
Surf Shop Sponsors: Moment Surf Shop, Newport Surf Shop, Ossies Surf Shop, The Surf Shop, Westport, Zuhg Life Surf Shop, Lincoln City Surf Shop
Grom Level Sponsors: Andrea K Mace Realty, Cliffside Coffee and Sweets, Cascade Solar, Rainbow Sandal, Hyperflex Wetsuits, FCS, Catch Surf, Dakine, Roark, Dark Sea and Xcel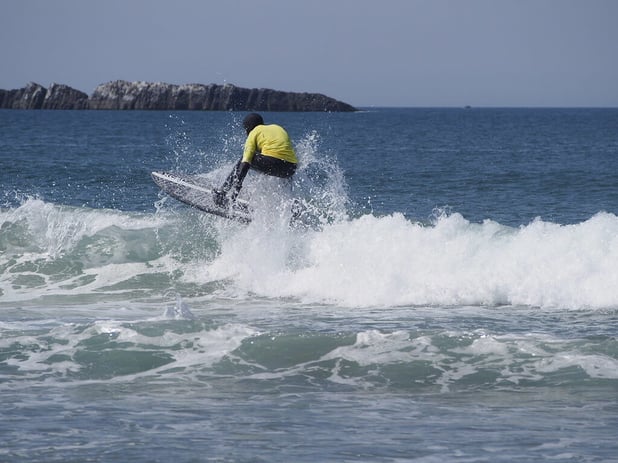 Contest Results: (1st,2nd,3rd respectively)
Child w/ parent: Merrick Lorincz, Diego Adam Olson, Miley Moser/Julian Moon Carney (tie)
12/under Girls: Sierra Shea, Lola Erskine, Anneliese Akretch
12/under Boys: Bruce Jessal, Baker Stewart, Micah Adam Olson
13-15 Girls: Madeleine Menke, Paloma Menke, Illana Brown
13-15 Boys: Taylor Tice, Emelio Tate, Brogan Shea
16-18 Girl: Sophi Carlucci, Hailey Feuling, Layla Newell
16-18 Boys: Eric Rasmussen, Cylas Puzycki, SiriNarayan Khalsa
Final scores for all contestants have been posted on newport.surfrider.org