This past weekend Surfrider Foundation partnered up with Latino Outdoors PDX for a day at the coast exploring Cascade Head Marine Reserve and Protected Areas. The rain and cold weather was really no matter for the amazing day of activities from beach cleanups to kayaking the Salmon River estuary. While the day was filled with incredible experiences, it was also a strong reminder that not everyone has the same level of exposure and access to the outdoors, even our seemingly free beaches and marine protected areas come with barriers and costs unrecognized to many of us. Over half of the young adults on this trip had never visited the coast - from transportation and proximity to activities to simply free time and life priorities, it was clear that we have a lot of barriers to overcome, and opportunities through partnerships and empowerment, to engage all Oregonians in exploring the outdoors and ocean conservation.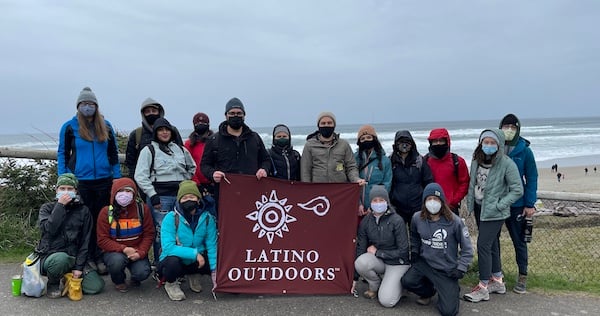 Standing in the parking lot at Roads End State Park on a rainy and cold February morning, I wondered if our partner group traveling that day from the Portland area would be motivated for all the activities we had planned. We had been coordinating with Maritza Oropeza Krtiz, Portland Leader and Educator for Latino Outdoors (LO), for the better part of a couple months to arrange this field trip. Surfrider had a grant with funding for supporting field trips and education to Oregon's Marine Reserves and Protected Areas. Maritza had an interest in expanding outdoor experiences and conservation education to the Latino community in Portland through LO.
Despite the glum weather, a cheerful and super motivated group of young adults hopped off a school bus and from a handful of cars ready for a day of coastal adventure. We spent the morning learning about the Cascade Head Marine Reserve and Protected Area, conducted a beach cleanup at Roads End, bearing witness to some of the ongoing threats to marine conservation efforts like plastic pollution. Our next stop was the Lincoln City Cultural Center where we'd eat lunch and participate in a community collaborative art exhibit, as an extension to learning about plastic pollution at the beach.
Our final stop was all about adventure and enjoyment - kayaking the Salmon River estuary out to the mouth of the Cascade Head Marine Reserve. Big thanks to Kayak Tillamook who helped outfit and guide this awesome exploration of the estuary, marine protected areas and upland conservation areas. The estuary, marine reserve and surrounding upland forests, meadows and headland are all part of the greater UNESCO Cascade Head Biosphere Reserve, and one of the best ways to take it all in is by kayaking through the estuary. We protect what we love and the combined conservation efforts of Cascade Head have a lot to love.
Bald eagles, seals, salmon, grazing elk on the meadows, majestic spruce trees towering up to headlands high and offshore rocks that abut a teaming Pacific ocean - it's a lot to take in, especially if you've never visited the coast before. The weather broke, the rain stopped and we rode the tide downstream to the mouth and back up again at the turn of the incoming tide. I thought to myself, why don't I do this more often, it's less than an hour from my home and my job/life is all about ocean conservation? I've been to Cascade Head at least a hundred times but every visit is special and a meaningful reminder of why I work in conservation.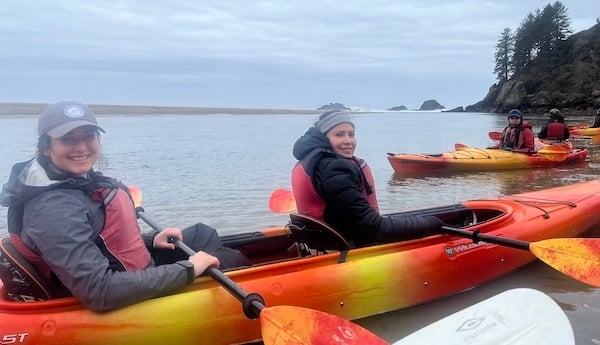 Conservation begins with growing to love and care about the natural world we live in, often through lived experiences. It's critical that we take the time and effort to get out into these protected areas and expose all Oregonians to spending time outdoors and enjoying nature. It takes generations to have a legacy conservation area like the Cascade Head - from first nations that steward these cultural significant lands to state and federal agencies, NGOs and countless of extremely diverse individuals made Cascade Head what it is today over time.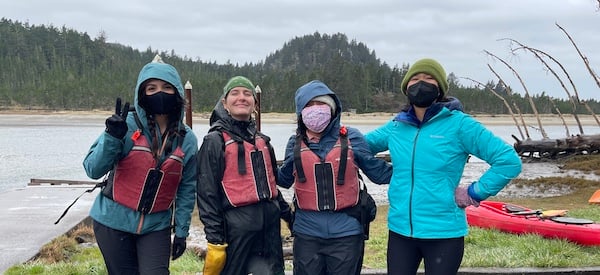 It will take a continued investment in exposing diverse audiences to the outdoors and conservation efforts and that often begins with expanding our partnerships. Surfrider Foundation has relied too long on a lot of our traditional partners in the surf and outdoor industry that we today realize is leaving behind some of the most important conservation audiences. We're excited to expand more opportunities with Latino Outdoors and other new partners in the outdoor community, it's a critical component of ocean conservation in Oregon. We encourage our volunteers, sponsors, donors and funders to check out the great work that groups like Latino Outdoors are doing to organize with diverse communities and provide outdoor recreation and conservation opportunities!