It was Sunday afternoon of President's Day weekend as I drove back along Cape Perpetua from a friend and colleague's house down near Tenmile Creek. We had spent the day plugging pre-cut logs with Shitaki mushroom spores and sealing them up with wax, an annual ritual of the local fungi-culturing enthusiasts to help bolster their homegrown culinary stock for coming seasons. It was an impeccable February afternoon, sunny, unseasonably warm and windless as I swept through the S-turns of the Cape, one scenic overlook after another. As I drove, I was struck by the number of visitors to this special place, nearly every wayside overflowing with cars, many parked along highway 101. Just 12 years ago I called the neighboring town of Yachats home, and although the Cape's every bit as spectacular and special as when I lived here, the dimensions of human use, tourism and conservation have dynamically changed.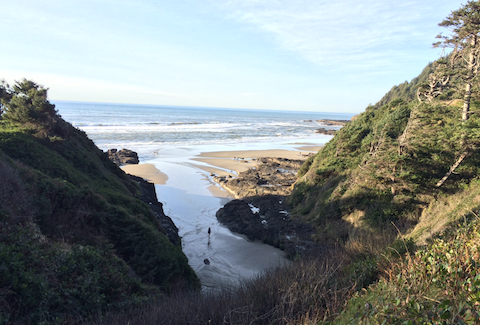 I've driven this drive and recreated along these shores hundreds, if not a thousand times over the years, but had never seen so many visitors along this stretch of coastline. Maybe it was the weather, combined with President's Day weekend and an itch from the valley visitors to get to the coast, but something about seeing all of these individuals enjoying this area on a Sunday afternoon in the middle of February got me a bit introspective. Why are all these people here? Does this place mean the same thing to them as it does me? Do they know how privileged we are to have this to enjoy in the first place? As I drive, I spot some friends checking the surf from one of my favorite little nooks in the Cape and I pull over for a quick chat.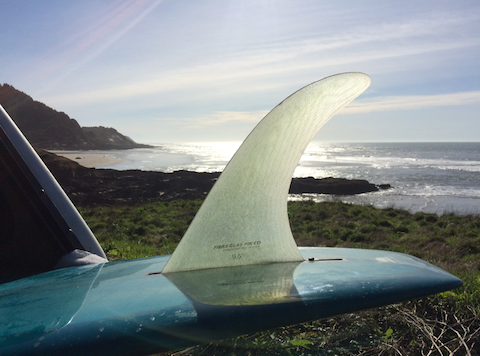 We stare silently at the waves breaking across an outer reef and washing up beneath us into a churn of basalt tide pools. Black oystercatchers, charismatic and brightly-billed shorebirds, stalk the pools beneath us with piercing eyes and a deliberate strut. The rocky tide pools beneath their feet brim with color and life, outstanding shades of orange, purple, and green contrast against the black rocks. My friends undoubtedly are aware of and understand the sacredness of this place, but I wonder if they see the immense values beyond and beneath the waves the same as me. I turn to my friend and ask if he's aware of the newly designated Marine Reserve here. He nods and says, "well, I have kids now and we have to protect this place. I want them to stand here and see and feel what you and I see and feel right now." I smile and return to my rig to continue making my way around the Cape.
The dramatic shoreline here is backed by some of the most remarkable forestland on the coast, collectively encompassing habitats ranging from old growth Sitka spruce to massive Doug fir and big leaf maple forests. They house a number of threatened and important species like salmon, marbled murrelets and silverspot butterflies. Like the hundreds of people that hike and mountain bike these forests, these important species don't just depend on the forested habitats alone, it is the nexus of land and sea here at Cape Perpetua that truly stands out. Rounding the Cape, I watch a dozen or so hikers emerge out of Cummins Wilderness Area and cross highway 101 to take in the dramatic sunset and wonder if they are aware that where they are standing a nuclear power plant was once proposed.
As I pull into the wayside at Strawberry Hill, I see dozens of visitors amongst the tide pools and surrounding pocket beaches. Young explorers grasp the hands of their parents as they tip-toe from rock to rock investigating the rich fauna within the pools. A couple sits below me on the beach, blanket stretched across the sand and cocktails in hand. The young lady smiles at me as I pass, nervously rotating a sparkling engagement ring on her finger and I wonder if that marriage proposal just happened. As I return to my car I pass another older couple peering through binoculars on a bench - these two more seasoned in their time together and comfortable in their silence. Wearing matching "Oregon Coast" sweatshirts, I recognize they aren't local and ask, "What brings you two here?". The man looks at his wife and grabs her hand, "Watching the seals here makes us feel young and when you get to be our age, you seek out these youthful opportunities."
I snap a couple of photos of the sunset and begin my drive back home. As I drive, I think about what has made Cape Perpetua the special place that it is today. The Northwest Forest Plan, Wilderness and Sanctuary designations, Marine Gardens, Reserves and other special management areas all working together - uniting this land-sea splendor through whole ecosystem conservation and management strategies. I see visitors making their way back to their cars and wonder if they would be here at all if it wasn't for the foresight of these many conservation actions that left this place the way it is today…and just what is the value of that. Regardless of their knowledge of these actions, visitors clearly identify with Cape Perpetua, through many dimensions of use and well being.