Last week, Surfrider Foundation and Hatfield Marine Science Center hosted scientists from the Scripps Institution of Oceanography to give presentations on their study of energetic waves and their runup on the sandy shores of Agate Beach which is taking place this Fall. If you happen to see some of their instruments on the beach and wonder what the heck is going on, here is some background info on the study.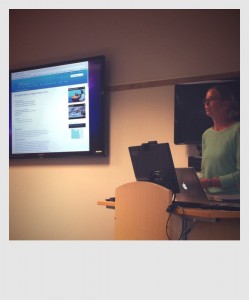 Julia Fiedler, Scripps Ph.D. Student describing her study to attendants at the Guin Library
Project Goal
The goal of the Energetic Waves at Agate Beach 2013 (EWAB13) experiment is to obtain observations of high energy, long period ocean swell waves propagating across a sandy beach and running up the beach face. The observations will be used to test and calibrate numerical models simulating wave runup and beach face erosion during storms.
Project Motivation
Beaches buffer cliffs and coastal structures against wave damage. However, many beaches are eroding because sediment previously brought down by rivers during floods has been reduced by flood control, and sea walls have limited cliff erosion. Beach vulnerability to erosion and associated coastal flooding may increase if sea level rises, or if coastal storms become more frequent or intense. Our understanding of storm waves (e.g., waves generated by large North Pacific storms, hurricanes, tropical Storm Sandy) is painfully limited. EWAB13 aims to obtain quantitative observations of the wave runup and changing sand levels in response to large ocean waves. These observations will be used to calibrate and improve numerical models used in coastal planning and beach management for extreme conditions when shoreline infrastructure is most at risk. Existing observations of this type are very sparse, reflecting the difficulty of working in this harsh environment.
Project Schedule
The project will run from about September 10, 2013 through December 15, 2013. Deployment of wave, current, and other instrumentation in early September (after Labor Day) will take approximately 2 weeks. Wave and sand level monitoring will run for approximately 2 months (October-November 2013). Instruments will be retrieved in late November depending on wave conditions.