Yesterday, following much
back and forth
from Oregon's leadership, The Bureau of Ocean Energy Management (BOEM) released the Draft Wave Energy Areas for Oregon. The draft areas cover nearly a quarter of a million acres roughly 18-32 miles offshore Oregon's southern coast.
The announcement initiates an extended, 60-day comment period, up from the typical 45-days, and likely due to the request to pause to meaningfully engage the public from Oregon's leadership earlier this year.
BOEM Official Press Release
As part of the Biden-Harris administration's goal of deploying 30 gigawatts of offshore wind energy capacity by 2030 and 15 gigawatts of floating offshore wind by 2035, the Bureau of Ocean Energy Management (BOEM) today identified two draft Wind Energy Areas (WEAs) off the coast of Oregon and opened a 60-day public review and comment period on those WEAs. The draft WEAs cover approximately 219,568 acres offshore southern Oregon with their closest points ranging from approximately 18 – 32 miles off the coast. Learn more on Oregon's state activities page.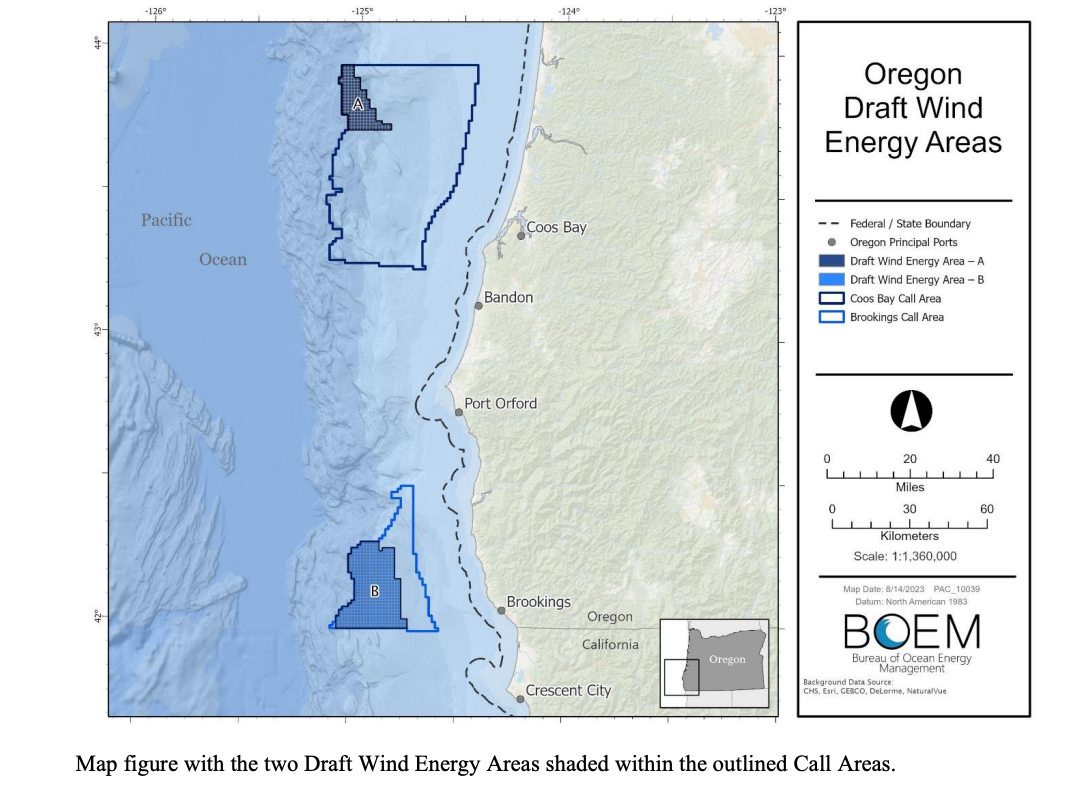 What's next for Surfrider?
The draft Wind Energy Areas (WEAs) pictured above are narrowed down from larger areas, known as Call Areas, that Surfrider participated and
provided public comment
during an earlier phase of the BOEM offshore leasing process last year. In the coming months, Surfrider will be conducting outreach to our chapters to review the areas and provide meaningful feedback during the 60 day comment period.
Here's how you can be involved:
The BOEM Oregon website now includes maps, visualizations, and also a draft NCCOS analysis. Educate yourself and dive into the WEA draft report here.
1)
Chapter Outreach & Engagement
- Surfrider is soliciting input through our local chapter network at their regular events and meetings. Read more on
Our Focus
below to get an understanding of how Surfrider's engaged and some of the things our chapters' care most about. Join a chapter meeting or
email Oregon Policy Manager
Charlie Plybon for more information on how you can be further involved.
2)
Coalition Engagement
- Surfrider is also participating in a coalition of expert ocean users, wildlife and conservation groups to better define a more ground up and inclusive process that meets Oregon's ocean interests, the
Oregon way.
In addition, we will be working this group to refine and further develop coalition comments on the WEAs.
Email Oregon Policy Manager
Charlie Plybon to get involved and join our coalition efforts.
Our Focus
Surfrider Foundation's work with the coalition has been to focus on many of the concerns of recreational and shoreside users, some of which
we've outlined here
during BOEM's draft Call. Because of the location of the call areas, this has been a heavy focus of our Coos Bay Chapter. We spent the early phases of the call process
educating our members
on the process and heard both developer and ocean user interests and concerns - watch our
webinar here
. We've met with ocean recreational and shoreside users, fishing community, industry developers, elected officials, local and state fisheries managers and believe that any path forward is going to take trust and collaboration that engages all parties at the ground level - which is exactly what our national
Surfrider Foundation Renewable Ocean Energy Policy
calls for.