The Surfrider Foundation's Newport, Siuslaw and Portland Chapters have announced open registration for the 6th annual Otter Rock n' Roll Youth Surf and Beach Cleanup Challenge in celebration of International Surfing Day. Observed globally, International Surfing Day celebrates the sport of surfing and helps raise awareness about issues facing our oceans, waves and beaches. The Otter Rock N' Roll will take place on June 21st at Otter Rock/Devil's Punchbowl State Park from 8am-4pm.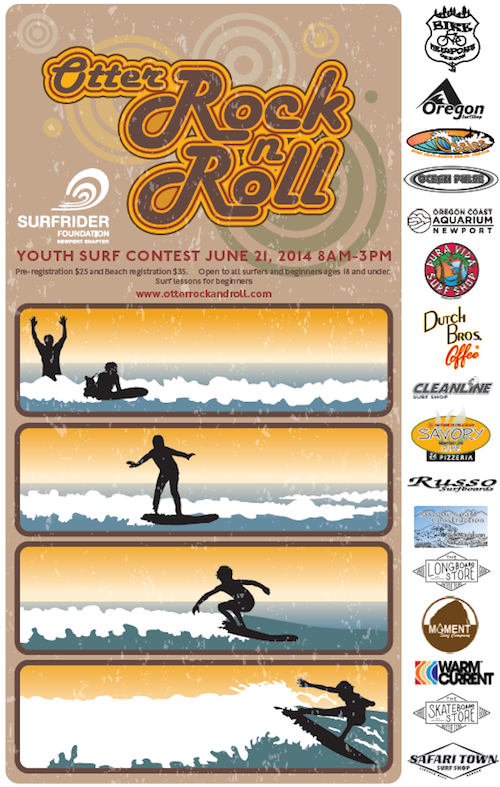 An 18 and under surf contest, the event is open to all surfers, beginners and beach enthusiasts. Event pre-registration is $25 at www.otterrockandroll.com. Space is limited, sign up early to reserve your spot! Beach registration is $35 and closes at 8am sharp. All participants will receive an event t-shirt and great prizes from local sponsors; there will be beach games and activities throughout the day, including the special beach cleanup challenge, where youth can compete for different prizes through various stewardship activities. From the no-experience necessary beginner division with lessons to parent with child division or the more competitive 16-18 year old divisions, there is something here for all water and beach lovers.
Otter Rock n Roll began 6 years ago in celebration of International Surfing Day which is officially observed on June 20th, uniting surfers from around the world to celebrate the sport of surfing and give back to our oceans, waves and beaches through stewardship activities. "This is a great opportunity to engage in ocean stewardship, physical activity, and family friendly competition. No surf experience is required – just a desire to enjoy the sport of surfing" says Matt Hawkyard of the Newport Chapter and lead organizer of the event.
Local sponsors include: Moment Surf Company, Bike Newport, Warm Current, Russo Surfboards, Cleanline Surf Shop, Ocean Pulse, Ossie's Surf Shop, Savory Café, The Skateboard Store, Oregon Surf Shop, Pura Vida Surf Shop, Cascade Coast Construction, Safari Town Surf Shop, The Longboard Store, the Oregon Coast Aquarium, and Dutch Brothers Coffee, and Eon Graphics.